ECSSD Dataset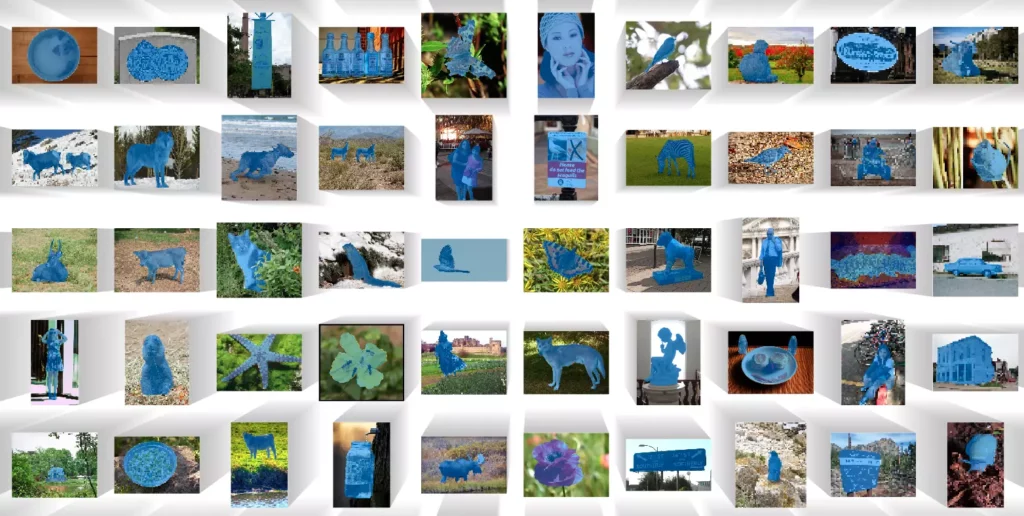 The ECSSD (Extended Complex Scene Saliency) Dataset is created to enhance research in segmentation of complex scene saliency images. It was generated to substitute MSRA-1000 dataset which normally have images having smooth and simple background structures. The dataset brings natural images which are diverse in nature. All the images were acquired from the internet and with help of 5 helpers in producing ground truth masks. This dataset contains 1000 natural images with well annotated masks.
Download ECSSD Dataset in Python
Instead of downloading the ECSSD dataset in Python, you can effortlessly load it in Python via our Deep Lake open-source with just one line of code..
Load ECSSD Dataset in Python
				
					import deeplake
ds = deeplake.load("hub://activeloop/ecssd")
				
			
images

: tensor containing images.

masks

: tensor containing masks of respective images.
How to use ECSSD Dataset with PyTorch and TensorFlow in Python
Train a model on ECSSD dataset with PyTorch in Python
				
					dataloader = ds.pytorch(num_workers=0, batch_size=4, shuffle=False)
				
			
Train a model on ECSSD dataset with TensorFlow in Python
				
					dataloader = ds.tensorflow()
				
			
Additional Information about ECSSD Dataset
ECSSD Dataset Description
Paper:

Shi, J., Yan, Q., Xu, L., & Jia, J. (2015). Hierarchical image saliency detection on extended CSSD.

IEEE transactions on pattern analysis and machine intelligence

,

38

(4), 717-729.
Shi, J., Yan, Q., Xu, L., & Jia, J.
ECSSD Dataset Licensing Information
Deep Lake users may have access to a variety of publicly available datasets. We do not host or distribute these datasets, vouch for their quality or fairness, or claim that you have a license to use the datasets. It is your responsibility to determine whether you have permission to use the datasets under their license.
If you're a dataset owner and do not want your dataset to be included in this library, please get in touch through a
GitHub issue
. Thank you for your contribution to the ML community!
ECSSD Dataset Citation Information
				
					@article{shi2015hierarchical,
  title={Hierarchical image saliency detection on extended CSSD},
  author={Shi, Jianping and Yan, Qiong and Xu, Li and Jia, Jiaya},
  journal={IEEE transactions on pattern analysis and machine intelligence},
  volume={38},
  number={4},
  pages={717--729},
  year={2015},
  publisher={IEEE}
}